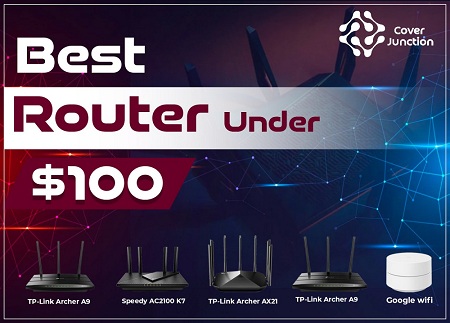 High-end brand products are extensively costlier than similar standard products. The same is with the router. But, to this date, while you can make do with the best Budget routers under $100, why go for an expensive router that would empty your budget!
A router is required in every home, office, or even clinic. But if you are looking for the best WiFi router under $100 to install in your home. It is easy to find vast recommendations on the best affordable router and budget routers online. But it is no doubt that you will be confused. Besides considering some essential factors crucial for a router, it is also your personal preference.
However, suppose you are a technical and knowledgeable person. In that case, you know what you should look out for when buying electronics products like a router. But if you don't know about such things, a few vital specifications that you can check out when purchasing a cheap wifi router for under $100 are:
WiFi Standard (minimum speed 1200Mbps, maximum speed 1900Mbps)
Dual-band router
Gigabit Ethernet ports (at least 4)
Beamforming and MIMO support.
Nonetheless, in 2022, the pandemic has enabled individuals to be cautious when purchasing electronics. While you want the best WiFi router under $100 in 2022, you also want it to be long-lasting with seamless, excellent performance. If you're going to install a router at home, you will connect multiple devices. So, speed and performance matter.
Here you can find a quality and affordable list of the best router under $100. So, let's get into it.
D-Link DIR-867
Under $100, the D-Link DIR-867 is one of the best budget routers in 2022 that you can install in your home. It comes with some essential features that a primary WiFi router should have for an incredible internet connection and reliability at an affordable price.
Specs:
Supports MU-MIMO
Beamforming technology
Dual-band router
4 external antennas
Dual-core processor
Combined WiFi speeds of up to 1750Mbps using the 2.4Ghzs + 5Ghz band.
Pros:
The inclusion of MU-MIMO technology supports multiple device connections simultaneously.
QoS enables seamless and optimized performance.
Beamforming technology improves coverage to numerous devices.
Reduces wait times while streaming even 4K videos and online gaming due to its 3×3 data Streams.
Cons:
It does not have USB ports.
TP-Link Archer AX21
If you wonder which WiFi router is the best for a home under $100, then the TP-Link Archer AX21 Wifi Router is the best choice. It is one of the most purchased and recommended budget buys for a WiFi 6 router under 100 USD. It offers smashing features with advanced technology infusion for just under 100 bucks. Another distinct feature that makes the TP-Link Archer AX21 router the best buy is its durable design.
Specs:
Beamforming technology
OFDMA and MU-MIMO technology
WiFi 6 dual-band router
WiFi speed of up to 1.8Gbps
4 external antennas
5Ghz Quad-core processor
5 Gigabit Ethernet ports
Multiple device connections at once with a 40+ limit.
Pros:
It provides WPA-3 high security.
It is easy to set up.
It has comprehensive device coverage and a connection range.
It is super durable due to its next-gen (802.11AX) wireless standard.
Provides high-speed performance with 2.4Ghz and 5Ghz.
Cons:
It does not have a USB 3,0 port but has a USB 2.0 port, which is relatively slow.
Google WiFi
Suppose you want to buy a reliable and popular name-brand best WiFi router for under 100 USD in 2022. In that case, Google Wifi Home Router is the only future-proof router choice you have. It is a mesh WiFi system for your home. It is a compact and aesthetic design to add to your home space.
Related: Ways to Encrypt an Internet Connection
Specs:
Dual-band frequency
Easy smart control
Wireless router of 802.11ac.
Pros:
It is tiny and easy to set up.
It offers a consistent WiFi speed of up to 1200Mbps.
It can be easily controlled via its Google Home mobile app.
It automatically switches to the fastest band to provide fast WiFi performance.
Its WiFi coverage goes up to 1500 sq. ft.
Cons:
Do not support WPA3.
It has only one Ethernet port.
Speedy AC2100 K7
The design of the Speedefy AC2100 K7 is comparable to the other WiFi routers out of the 100 USD price range in 2022. It offers a very stable internet connection to over 25 devices in your home with broad coverage. The unique factor about this smart router is that it provides three operational modes, i.e., repeater mode, wireless router mode, and AP mode.
Specs:
Dual-band frequency of 2.4Ghz and 5Ghz
Supports IPv6
7 high-performance (6dBi) external antennas
4×4 MU-MIMO technology
Dual-core processor
Smart control
Pros:
It offers solid security with its IPv6 support.
Its smart control provides guest zones.
Easy 4K media streaming and gaming.
High-performing wireless WiFi speed of up to 2100Mbps.
It offers mind-blowing coverage and connection to over 25 devices simultaneously.
It is easy to set up and gives off a premium vibe with its design.
Cons:
TP-Link Archer A9
Yes, TP-Link Archer A9 includes the list of the best budget router under 100 USD in 2022. When you actually use the device, you can notice its significant variation and improved features compared to other WiFi routers. At this point, you can get it within your budget. The inclusion of advanced technology like Beamforming makes this router a smart device.
Specs:
Dual-band router
Beamforming technology
1Ghz dual-core processor
3 external antennas
1 USB 3.0 port
1 USB 2.0 port
4 Gigabit Ethernet ports
1 fast WAN port
Combined WiFi speed of up to 1900Mbps with its 2.4Ghz band + 5Ghz band.
Pros:
It enables the connection of multiple devices in one go.
Advanced Beamforming technology infusion ensures reliable and strong WiFi connection.
Separate TP-Link Tether mobile app to set up the WiFi router and easy management.
Smooth HD gaming and 4K video streaming with its AC1900.
Cons:
It cannot be mounted on the wall.
It has bright light indicators, which often is annoying to the users at home.
Netgear Nighthawk R6700
The Netgear Nighthawk R6700 is the best budget router suitable for home and online gaming. You can even prioritize the connected devices for better WiFi connection and performance. It is one of the best feature-packed smart wireless routers under $100
Dual-band smart router
1Ghz Dual-core processor
Beamforming technology
Airtime Fairness feature
Fast USB 3.0 port
4 Gigabit Ethernet ports
3 external amplified antennas
Advanced QoS
Smart parental controls
Free backup software
Pros:
It can connect about 25 devices at once with either wired or wireless connections.
Its smart control features via its mobile application make parental time controls easier.
It provides about 1750Mbps WiFi speed with approximately 1500 sq. ft area coverage.
Its Airtime Fairness feature helps prevent possibilities of network lag when multiple devices are connected.
Media accessibility and use of external storage are possible with its 3.0 USB port.
Safeguard media files through its free backup software factor.
Cons:
It is not MU-MINO technology supported.
ASUS RT-ACRH13
As a WiFi router under the budget of 100 USD, the features that the ASUS RT-ACRH13 offers are not that outstanding. While you purchase this router, you get two years warranty period. Like some smart routers on the list, it also provides 2 different operation modes, including access point and wireless router modes.
Specs:
MU-MIMO technology
Dual-band frequency
4 Gigabit Ethernet ports
1 fast WAN port
1 USB 3.0 port
Pros:
It has a separate mobile app that is very user-friendly.
It offers a combined WiFi speed of up to 1300Mbps with its 2.4Ghz and 5Ghz band.
It enables the connection of multiple devices at once.
Its 4 5dBi external antennas enable improved WiFi range and solid converge in your home.
Setting up the ASUS ARC13 is accessible via its web-based interface.
The Asus Router mobile app is helpful to monitor and control the WiFi network.
Cons:
It does not offer beamforming technology
Its LED light indicators are too bright for the eyes.
Motorola MR1700
Motorola is globally famous for its variety of product lines. At this point, their newly introduced router, the Motorola MR1700, comes to the list of best WiFi routers under $100 in 2022. It has several worthy in-built extended features that offer excellent WiFi performance. Besides its wireless mode, you can also switch to bridge mode. You get two years of warranty while purchasing.
Specs:
Dual-band Gigabit WiFi router
6 external antennas (adjustable)
Wireless-AC
Pros:
It can simultaneously work on both 2.4Ghz and 5Ghz bands with a combined WiFi speed of 1700Mbps.
Setting up MR1700 is easy.
You can connect multiple devices at one go.
It provides excellent WiFi range coverage.
Cons:
It does not support both Beamforming and MU-MIMO technology.
It has no USB ports.
Netgear R6230 AC1200
While the Netgear R6230 is not the most technology-infused WiFi router in the market, it is still one of the best router purchases you can have for under 100 USD. It also has a lot of great features to offer. Among its competitor routers with AC1200, the Netgear R6230 is seemingly faster.
Specs:
Dual-band router
2 external antennas
Beamforming+ technology
QoS
Pros:
It offers a pretty fast and reliable combined WiFi speed of 1200Mpbs with its 2.4Ghz band and 5Ghz band.
The infusion of advanced technology ensures solid WiFi connectivity.
The router can be set up, monitored, and managed via the Nighthawk mobile application. Monitoring the multiple connected devices becomes more effortless.
Its QoS technology enables bandwidth prioritization.
Cons:
It does not have beamforming technology or MU-MIMO to offer.
There is no 3.0 USB port.
Medialink MLWR-AC1200
If you want a mountable WiFi router, the Medialink AC1200 is one option. Its price and other features are somewhat a better choice than the Motorola MR1700. While the router itself provides a wide range of coverage, its universal range extender mode can be used to extend the WiFi range.
Specs:
Dual-band Gigabit router
Wireless connection
4 Gigabit Ethernet ports
Beamforming technology
Built-in firewall security
Pros:
It provides combined wireless speeds of up to 1200Mbps with its 2.4Ghz plus 5 GHz bands.
Its installation is very straightforward.
Wireless connection and high-performance Ethernet ports offer lag-free 4K video streaming and online gaming.
A wireless signal is established via two of its external antennas.
You can even control the light indicators of the router.
It can connect about 20 devices at a time without a network issue.
Cons:
It does not support a fast USB 3.0 port.
Final verdict
While the above list of WiFi routers is not exclusive, these are the best routers that you can get for under $100 in 2022. When comparing routers to buy, make sure to reach every essential aspect like the router must have either one or both of the beamforming technology and Mu-MIMO technology.
Since a router within a budget is cost-effective, high-quality, and offers quite a great internet experience to the user, it is a better option in the long run. Since you will use the router at home, getting an expensive one is unnecessary.