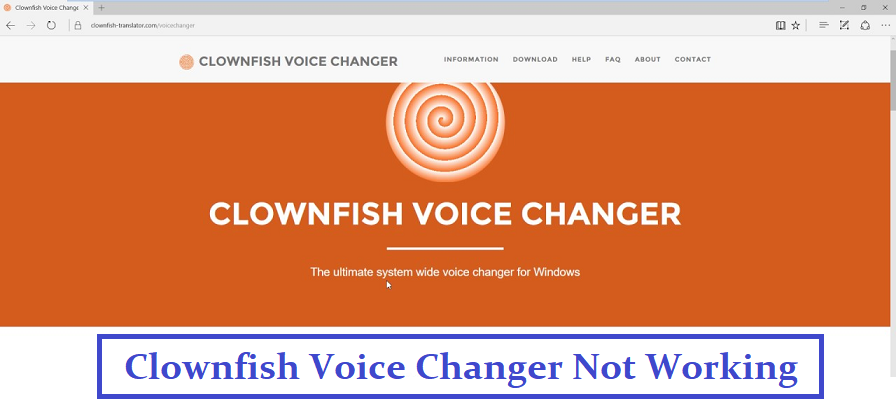 Clownfish is a voice translating application used in several applications such as Discord. Despite its complete and extensive features, it is not free from flaws. You might see the 'Clownfish voice changer not working' or 'Clownfish Not Working' message on the display if the Clownfish is not compatible with the Discord. Also, if the Clownfish is not functioning properly on the computer, then it can also lead to a glitch.
Solutions to Fix Clownfish Voice Changer Not Working Discord Issue
Check out the possible solutions to get rid of this error.
Solution 1: Set the Microphone on the Clown Fish
With the help of Microphone ClownFish, you can identify your voice, change it and forward it further. However, if the microphone has not configured properly, or if it has bad drivers, then you may face this glitch. 
Hence, you have to correctly set the Microphone. For that, use the bottom right-task bar and launch the Clownfish application on your device. Then, right-click pon the Clownfish application and choose 'setup'.
Now, you will see different models available through which you can change the voice. You have to choose the one that is working properly. After installing the Microphone successfully, restart your machine and check if the error has been resolved or not.
[Note– If the microphone is physically damaged, then this solution will not work for you]
Solution 2: Update the Application Within the Default Folder
If the above solution is not workable for you, then we suggest you install the application within the default folder.  
In order to do so, open the Run dialog box by pressing the Windows and R keys simultaneously.

Then, enter ' appwiz.cpl' in the Run field and hit the Enter key.

Afterward, all the installed apps will appear on the display. 

Under here, drop down and locate the Clownfish. After that, right-click on it and choose Uninstall.
Once done, go to the official website of the Clownfish.
After that, download and install the latest version.
Next, run the installer. You will get to see the install location and you should not change the installation location.
Simply, click on Next. After that, reboot the system. If you are still dealing with the flaw, then here is another alternative at your rescue.
Solution 3: Upgrade the Latest Clownfish Version
You have to continuously update the Clownfish to its latest version to avoid such kind of circumstances. For that, you are recommended to visit the official website of Clownfish. After that, download and install the latest version. 
Wait for some time as the upgrading procedure might take some time. After completion, restart the machine and open the Clownfish without the error.
Hope after applying these effective solutions, you can fix the Clownfish voice changer not working problem without any hassle.