Nexus Mod Manager is a program through which game mods can be installed and modified accordingly. However, sometimes users face difficulty in opening it. No matter what a user does, it does not open. 
This problem is pretty common and there are numerous ways to get rid of it. Let's take a thorough look into some of the fixes.
What To Do If Nexus Mod Manager is Not Opening on Windows 10?
Being a gamer, it can be pretty frustrating to face such issues. However, you can fix it by following some of the easy methods given below. 
Solution 1: Install Nexus Mod Manager Again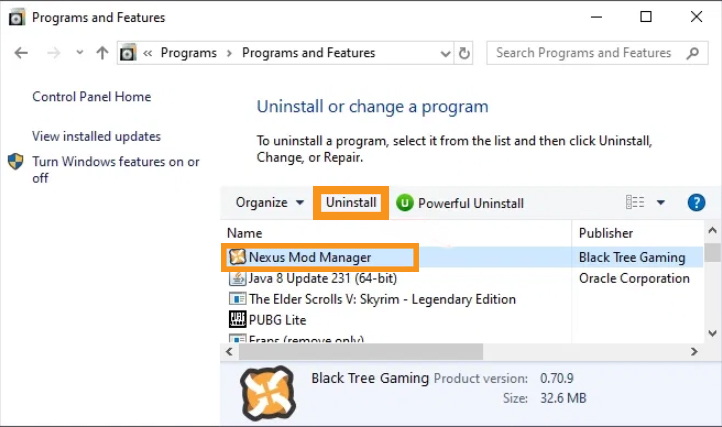 At first, we would suggest you uninstall the program and reinstall it. To perform this solution, follow the steps given below.
Log in with an administrator account and go to Start.

Next, click on Control Panel. Go to View as category and then select Uninstall a program option within the Programs section.

For users using the Settings app, click on Apps. This will open a list of programs installed on your system.

Within the Control Panel or Settings, look for NMM and then uninstall it by clicking on the Uninstall option.

This will open the NMM's uninstall wizard for you. Now, you will see a message asking "Do you want to completely remove Nexus Mod Manager for Windows?" Click on Yes.

Once the Nexus Mod Manager gets uninstalled, click on Finish.
After uninstalling it, make sure to reinstall it by going to their official website and clicking on the Download button from there. Follow the instructions appearing on your screen to reinstall it.
Solution 2: Perform a System Restore
Another technique to resolve this issue is by performing a system restore. This will restore your computer to a point where your computer was working fine.
Search for System Restore on the search bar of Windows 10. Click on create a restore point. 

In doing so, a System Properties window will open. Go to Protection Settings and check whether protection is enabled on your System Driver or not.

If it is not, choose the disk and click on the Configure button. Input the disk space for protection accordingly. Click on Apply>Ok.
This will generate a restore point for you. After that follow the steps given below.
Go to the Search bar of the Start menu and type System Restore. After that, click on Create a restore point.

Again, go to System Properties window and click on System Restore.

Click on "Choose a different restore point" and then Next. 

Select the Restore point and click on Next. This will restore the system to the point when it was working absolutely fine.
Solution 3: Check if NMM is Blocked by Security Softwares
Security software can block the Nexus Mod Manager for security reasons. Hence, in such scenarios, check if this is the case by following the steps given below.
Right-click on the Nexus Mod Manager icon. Select Open File Location.

Once the folder opens, right-click on the client file and select Properties.

If you see a message stating that it's blocked, unblock it and click on Apply the changes.

Reboot your system and check if the problem resolves.
Solution 4: Try the Compatibility Mode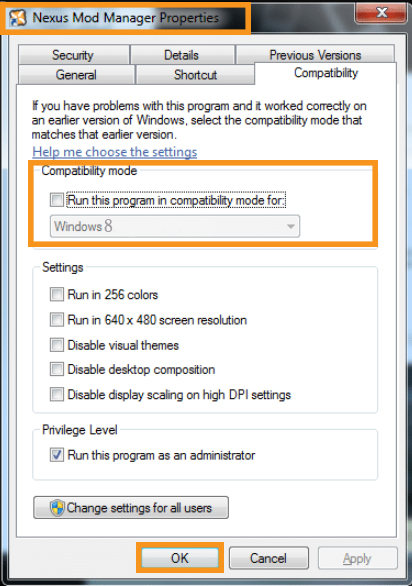 You can also try going back to an older version of Windows through compatibility mode and see if that helps. Here is how you can do this easily.
Right-click on the Nexus Mod Manager icon and select Properties from the list.

Click on Compatibility Mode and choose Windows 8.

Again, click on Apply>Ok.
Solution 5: Run Nexus Mod Manager as Administrator
Additionally, you can also try running Nexus Mod Manager as an administrator and check whether it resolves the issue for you or not. You can perform this solution by following the steps given below.
Right-click on the Nexus Mod Manager icon.

Select Run as Administrator option from the list.
Solution 6: Disable Your Antivirus Software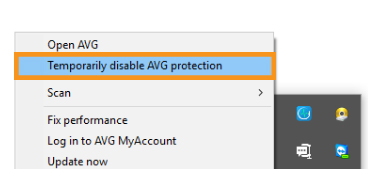 You may also encounter this issue if the antivirus software you are using is blocking some of the necessary files of the Nexus Mod Manager. Here is how you can perform this fix easily.
First of all, look for the Antivirus Protection Program you are using, from the Windows Notification area.

Right-click on it and click on Disable.  
Solution 7: Try the Reddit Method
There is also this method on Reddit which can be followed by the users to resolve this issue. However, there are certain parameters to follow. Lets how it can be performed.
Go to Start and search for "Event Viewer" within the search box. Click on the search result.

On the left side of Event Viewer, you will see a Navigation Menu, click on the Windows logo and then Application.

Go to the middle of the Event Viewer window. There you will be able to see various entries with label information.

Match the date with the time when you tried to open the Nexus Mod Manager. You can also press the refresh button on the Nexus Mod Manager and three entries should appear. 

Choose the .Net runtime and then go to the bottom of the Window. Go to the General tab and see if there is an application called NexusClient.exe.

If you are able to see Exception Info stating "System.Xml.XmlException" then it signifies that you can use this solution.
Actual Solution:
Follow the steps cited below and check whether your problem resolves or not.
Go to File Explorer>This PC. Now, navigate to C:\Users\yourusername\AppData\local\Black_Tree_Gaming

Turn on the View hidden files and folder option, if you are unable to locate the AppData folder. 

Within the File Explorer Menu, go to the View tab>Show/Hide Sections>Hidden Items.

Transfer and backup the Black_Tree_Gaming folder to some other location. Restart the Nexus Mod Manager Client.

Once it opens, check if it's looking for games now.
So these were some of the techniques by which you should be able to resolve the problem where the Nexus Mod Manager is not opening on Windows 10.