One of the most commonly encountered errors in Quickbooks is code 6147. 
Here's how the Error Code 6147 message looks like:
Quickbooks data file contains a problem or it is not data file. Please get technical support from Intuit and provide the agent with the error code 6147-0.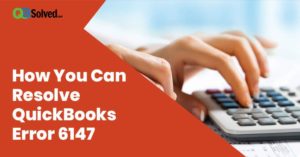 Generally, this error occurs when you are attempting to open any company backup file or company file In Quickbooks. When the file is improperly located or damaged, it leads to the occurrence of Quickbooks error code 6147.
In addition, when you are attempting to fix any company file backup locally or from a network drive, error 6147 arises. 
Reasons for Error Code 6147
If you are getting error code 6147, you can neither get through your company file nor restore your backup file. There are three possible reasons for the popping up of this error. They are:
The used Quickbooks file is corrupted.

Network drive must be used by the user to restore back up.

The backup file's name is 210+ characters long, which is beyond the limit. 
How to Resolve Quickbooks Error Code 6147
Let us discuss the best possible fixes to solve the aforesaid error. However, before moving to the fixes, make sure that QuickBooks is up to date.
Fix 1: Download & Install Quickbooks File Doctor 
QuickBooks File Doctor is an advanced tool by Intuit which can be used to fix several problems that you run into while using QuickBooks. So, the first fix that you need to try is utilizing this tool. Hence, download & install it from the official website of QuickBooks. 
All you need is to run this tool after the completion of the installation. And hopefully, the error 6147 will be fixed.
Fix 2: Restore Backup to Some Other Location
For restoring your backup to some other location, do as directed:
Ensure that your PC is not being hosted.

Then choose from the File menu 'Utilities' of the Quickbooks software.

If there is an option of "Stop Hosting Multi-User Access" in the list, choose it.

Tap 'Yes' in the window of "Stop hosting multi-user access."

Also, tap 'Yes' in the window of "Company file must be closed".

Now, restore a saved backup file on the system. A separate backup, if present can be restored. 
Please note that when you pause hosting on the PC for restoring a backup file, it would be excellent if you conduct the hosting step by step. Through hosting and multi-user configuration you get access to the company file. In addition, make sure that the company file consists of 210 characters or less.  
Fix 3: Run Rebuild Utility
Running Rebuild Utility can be another way to help you overcome the error code 6147. Here is how to do it:
Tap on Utilities from the File menu.

Next, hit on Rebuild Data.

In case you get prompt for backing up your company file, hit Ok.

If your PC displays the message "Quickbooks is not responding', tap on Ok.