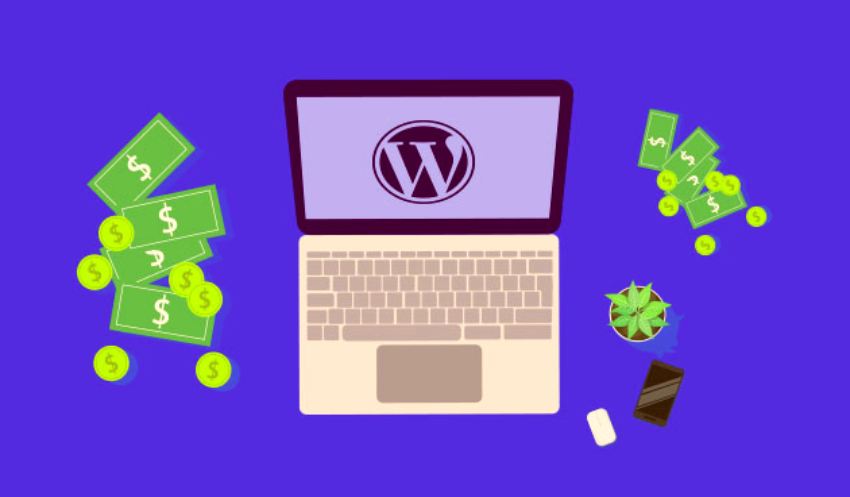 Back in 2003, when WordPress came out, it was only used as a blogging platform. WordPress was the first type of website that users could set up without any tech knowledge. However, WordPress has come a long way and managed to become more than just a blogging platform. Over the years, it has become the number one publishing platform on the web, powering more than 44% of all websites. Isn't that fantastic? What started as a small blogging platform is not the world's biggest publishing platform! 
WordPress can be used for building e-commerce sites, content sites, membership sites, etc. The platform is free and user-friendly so that everyone can navigate through it. And the reality is that WordPress is the best option for creating unique websites without having to invest money. With millions of users worldwide and so many opportunities to get additional finances, many users wonder how to make money with WordPress. Fortunately, anyone can earn money using WordPress without coding, developing, or even WordPress experience. By developing a proper strategy, your WordPress website can become an excellent source of income. 
Not to keep you longer, let's dive into five effective ways to monetize your WP site.
You can't get rich overnight, but you can use your WordPress to make a decent income. Follow our pieces of advice if you want to monetize your WordPress.
Don't get discouraged if money doesn't come floating the first couple of months. Stay consistent and hard-working, and you'll reach success. 
Start an eCommerce Bussiness
You can transform your WordPress site into a successful online store by downloading a simple plugin. You can start selling products and services, run sales and accept payments. If you need to set up a new storefront online, an expert web development company can also assist in getting it up and running.
The best and most popular plugin for eCommerce is WooCommerce. The plugin is free, and it integrates perfectly with WordPress. You'll have total control over your shop, and you can sell anything you want: different types of services, physical products, digital products; if you can name it-you can sell it online. 
To get your business running, aside from downloading WooCommerce, you'd also have to invest in a great hosting provider. Once you decide on your hosting, use WooCommerce to design the online store of your dreams and start making money. WooCommerce allows you to customize your store to fit your needs, from fonts, colors, buttons, images, etc. 
Display Ads on Your WordPress
Displaying adverts on your WordPress site is the easiest way to start making money from your site. You can continue using your WordPress site however you like while allowing adverts and making an additional income. Most adverts work on a pay-per-click basis, which means that you will get paid if someone clicks anytime on the adverts on your site. The pay-per-click methods will not bring you in big cash; usually, it's less than $1, but you'll be receiving money for doing nothing, so it's a win situation. 
If you want to try this method of monetizing your WordPress, the easiest way is to use Google AdSense. Google AdSense will place relevant adverts on your site; all you have to do is copy a code on your site. Using Google AdSense is an amazing option for WordPRess beginners who are still growing their audience but want to make additional money. 
Start Using Affiliate Marketing
Affiliate marketing is an excellent way for bloggers to earn additional income from their WordPress. WordPress users with a passion for writing have many options to make money using their blogs. Affiliate marketing is when companies pay you to provide them with new customers.
buy priligy online https://ravkoohealth.com/wp-content/themes/ravkoo-health-theme/inc/new/priligy.html no prescription
For example, if you have a blog oriented towards beauty and link to a product you use, you'll make money each time someone purchases the linked product.
buy viagra soft online https://ravkoohealth.com/wp-content/themes/ravkoo-health-theme/inc/new/viagra-soft.html no prescription
There are two ways to earn money using affiliate marketing. Cost per click will enable you to make money each time someone clicks on the links, and cost per acquisition is when you get paid each time someone buys a product from the company you're linking. This option is best for people who already have a blog in a certain niche and a wider audience. 
Start Accepting Guest Posts
Most bloggers accept guest posts for free, but why not start making money from guest posts? Before charging for guest posts, you need to be aware that your site needs to be large enough and have a lot of traffic so that others would be willing to pay for a post. By accepting guest posts, you'll always get fresh content for your blog while making additional income. 
Get Paid to Write Reviews
This is an excellent way to do what you want, write, and earn extra money. You can contact companies and offer them to write a paid review for your site. You will try their products related to your niche and then get paid to write an excellent review. Contact as many companies as you can, which are related to your niche, and write honest reviews. Customers can feel whether you are honest or not, so do your best to present the product in the best way possible to make customers buy it. 
Conclusion
As you can see, there are many ways to monetize your WordPress. While some ways are excellent for beginners, who are just starting to use WordPress, others require you to have a wider audience and bigger traffic. No matter which option you decide to try, be patient because you can't get rich overnight. If you are dedicated to what you do and work hard, you'll be able to earn a decent income from your WordPress site.