At times, if you are concerned about your computer speed and want to know if it is running as fast as it can, you can try running a computer performance test. You can utilize either the Windows built-in performance monitor or some other applications for doing so.
How to Test Computer Performance
Testing a computer for performance optimization is no tough task. As mentioned, there are applications meant for doing just that. Or, you can also use the Windows performance monitor. The detailed step by step procedure is discussed below.
Method 1: Make Use of the Performance Monitor
You will find this handy built-in diagnostic tool in every Windows distribution. You can find out the performance, either in real-time or from a log file using this tool. How the results are outputted also can be configured to analyze the results.
To run this tool, press the Window key and the R key together to open the Run window. Then type "perfmon /report".
You will find a window opening up and it will be collecting data for 60 seconds.
You will get to see the subsections below, under the Diagnostics Results tab.
Warning: You will see this section on the screen of your device when your computer is facing any warning or issue. In this section, you will get links and more information about the issues and the fixes.
Informational: Here, you will be provided some more information about network cards, processors, etc.
Basic System Checks: In this section, you will find the information about the Hardware, System Services, Drivers, OS, Security Center related information and OS.
Resource Overview: This section provides you an overview of your system's major parts, including the Disk, CPU, Network, and Memory. The issues' severity is indicated by green, amber or red lights and the details of your system's current status will also be shown.
The Performance Monitor will generate several other advanced information. But if they are too difficult for you to understand, you will get the information you need from the results of the diagnostics.
Method 2: Use Prime95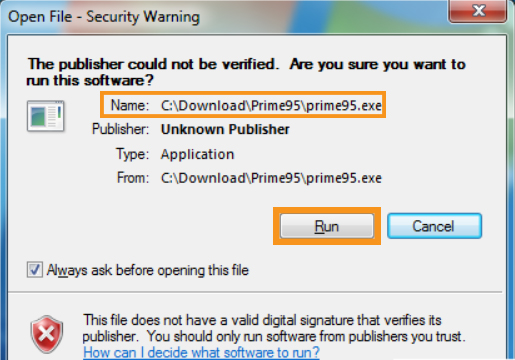 Among the overclockers, Prime95 is a very well known tool that tests CPU stress and Computer Performance.
Download Prime95 from its official website and then you have to decompress the zip file and run Prime95.exe.

Skip creating an account by selecting the button "Just Stress Testing".

Now leave the Torture Test Mode by clicking on the "Cancel" on the next screen.

Get into the Option menu and select Benchmark to run the Computer Performance Test.
If you want to interpret the Computer Performance Test results, you have to keep in mind that the lower values are faster and better. On the website of Prime95, you can compare your Computer Performance Test results with other computers.
Method 3: Make Use of the SiSoftware Sandra
SiSoftware Sandra is a popular system profiling tool and it has Computer Performance Testing utilities. Though you have to pay for this software, the free version of it has Computer Performance utilities. You will get to see individual test results from parameters like memory to an overall Computer Performance test score.
Download a copy of the software from the internet and run it.

Choose Overall Score to test your GPU, CPU, memory bandwidth and file system performance.

To start the Computer Performance test, select OK at the bottom of the window.
buy zoloft online buy zoloft no prescription



You will find detailed graphs comparing the results with a reference computer, once the test is done.
Method 4: Use NovaBench
This is a very well known and effective Computer Performance testing tool for Windows that tests your GPU, CPU, RAM and disk speed. You can download it for free and you do not have to pay for any additional features. You can simply run a computer performance test on Windows 10 for free using this tool.
Download a copy of NovaBench from the internet and run it.

Now select Start Benchmark Tests. NovaBench takes less than a minute to run a Computer Performance Test.
You will be shown an overall score by NovaBench and then it will display each individual benchmark's results, higher is better. On the website of NovaBench, you can compare your Computer Performance Test results with other computers.
Hopefully, with the help of these instructions, you will be able to run a computer performance test easily on your computer.